Catalog:

Service Contact
Email:
sales2@fiberer.com
Wechat:
josieHe501
chxm888
Tel:
+86-755-8619-2858
:
+86-755-8621-1558
| | |
| --- | --- |
| | Product Show |
| | |

1X16 Fiber Optic Switch,1X16 Optical Switch Specification

1X16 Fiber Optic Switch, 1X16 Optical Switch- Features

•Wide Wavelength Range
•Low Crosstalk
•High Stability, High Reliability
•Epoxy-free on Optical Path




1X16 Fiber Optic Switch, 1X16 Optical Switch - Applications

•R&D in Laboratory
•System Monitoring
•OADM
•OXC

Fiberer-FSW-1×16 Optical Switch is an ideal component for OADM,OXC,system monitoring and protection. With compact package, it can be easy to integrate into a high density optical communication system.




1X16 Fiber Optic Switch, 1X16 Optical Switch - Specifications
Parameters

Unit

Fiberer-FSW-1×8

Wavelength Range

nm

850±40 / 1300±40

1260 ~ 1650

Test Wavelength

nm

850 / 1300

1310 / 1550

Insertion Loss

dB

Typ: 2.8 Max: 3.2

Return Loss

dB

MM ≥ 30 SM ≥ 50

Crosstalk

dB

MM ≥ 35 SM ≥ 55

PDL

dB

≤ 0.15

WDL

dB

≤ 0.35

Repeatability

dB

≤ ±0.05

Power Supply

V

5.0 ± 5%

Durability

Cycles

≥ 10 Million

Switching Time

ms

≤8

Optical Power

mW

≤500

Operating Temperature

℃

-20 ~ +70

Storage Temperature

℃

-40 ~ +85

Relative Humidity

%

5 ~ 95

Dimension

mm

(L)110×(W)179×(H)16 ±0.2

1X16 Fiber Optic Switch, 1X16 Optical Switch- Pin Configurations
| | | | |
| --- | --- | --- | --- |
| Pin No. | Signal Name | I / O | Description |
| 1 | D0 | Input | TTL, Channel selection bit 0 |
| 2 | D1 | Input | TTL, Channel selection bit 1 |
| 3 | D2 | Input | TTL, Channel selection bit 2 |
| 4 | D3 | Input | TTL, Channel selection bit 3 |
| 5 | /EN | Input | Channel Selection Enabled. |
| 6 | NA | | |
| 7 | VCC | Input | 5.0±5% VDC Power Supply (max 750mA). |
| 8 | GND | Input | Ground |
| 9 | NA | | |
| 10 | NA | | |
| 11 | NA | | |
| 12 | NA | | |
| 13 | S0 | Output | TTL, Switch status output bit 0 |
| 14 | S1 | Output | TTL, Switch status output bit 1 |
| 15 | S2 | Output | TTL, Switch status output bit 2 |
| 16 | S3 | Output | TTL, Switch status output bit 3 |
| 17 | NA | | |
| 18 | NA | | |
| 19 | NA | | |
| 20 | NA | | |
1X16 Fiber Optic Switch, 1X16 Optical Switch - Switch Status
Input

Active Channel

Output

/EN

D3

D2

D1

D0

S3

S2

S1

S0

0

0

0

0

0

COM → 1

0

0

0

0

0

0

0

1

COM → 2

0

0

0

1

0

0

1

0

COM → 3

0

0

1

0

0

0

1

1

COM → 4

0

0

1

1

0

1

0

0

COM → 5

0

1

0

0

0

1

0

1

COM → 6

0

1

0

1

0

1

1

0

COM → 7

0

1

1

0

0

1

1

1

COM → 8

0

1

1

1

1

0

0

0

COM → 9

1

0

0

0

1

0

0

1

COM → 10

1

0

0

1

1

0

1

0

COM → 11

1

0

1

0

1

0

1

1

COM → 12

1

0

1

1

1

1

0

0

COM → 13

1

1

0

0

1

1

0

1

COM → 14

1

1

0

1

1

1

1

0

COM → 15

1

1

1

0

1

1

1

1

COM → 16

1

1

1

1

1

x

x

x

x

Hold

Hold

Hold

Hold

Hold
1X16 Fiber Optic Switch, 1X16 Optical Switch - Optical Route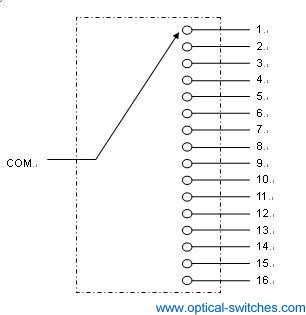 1X16 Fiber Optic Switch, 1X16 Optical Switch - Timing Diagram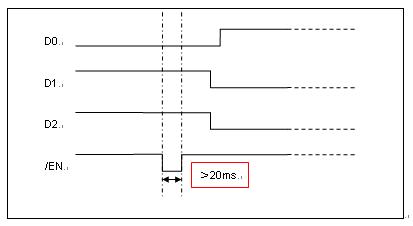 1X16 Fiber Optic Switch, 1X16 Optical Switch - Dimension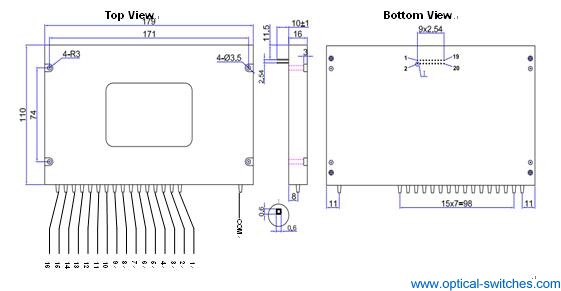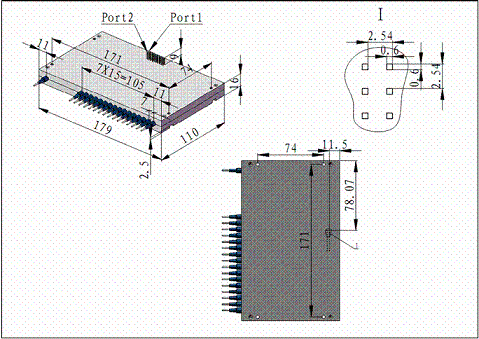 1X16 Fiber Optic Switch, 1X16 Optical Switch - Ordering Information: Fiberer-FSW-1×16-A-B-C-D-E-F
A

B

C

D

E

F

Fiber Type

Switch Type

Test Wavelength

Tube Type

Fiber Length
(Include connector)

Connector

SM: SM, 9/125
M5:MM, 50/125
M6:MM, 62.5/125
X: Others

L: Latching
X: Others

850: 850nm
1310: 1310nm
1550: 1550nm
1310/1550:1310/1550nm
X:Others

90:900um
X: Others

05: 0.5m±5cm
10: 1.0m±5cm
15: 1.5m±5cm
X: Others

OO:None
FP: FC/PC
FA: FC/APC
SP: SC/PC
SA: SC/APC
STP: ST/PC
STA: ST/APC
LP: LC/PC
LA: LC/APC
X: Others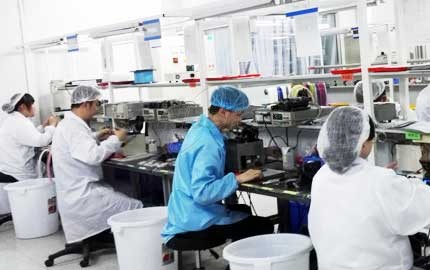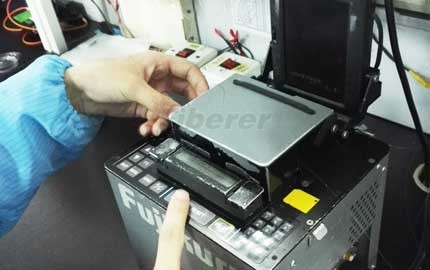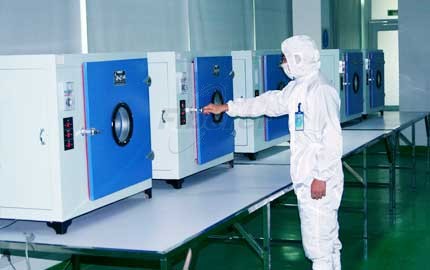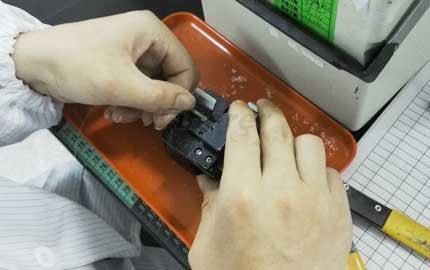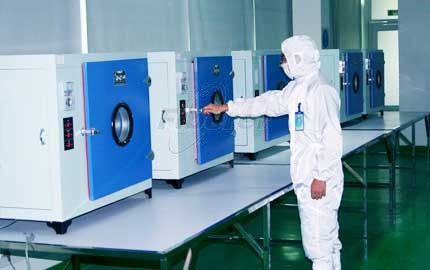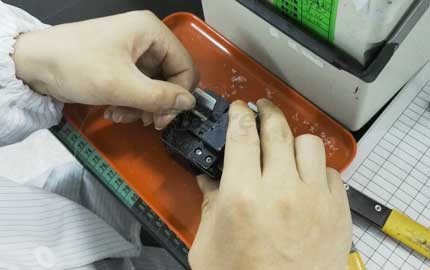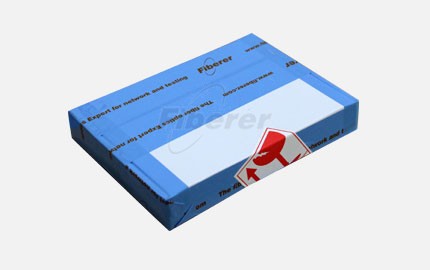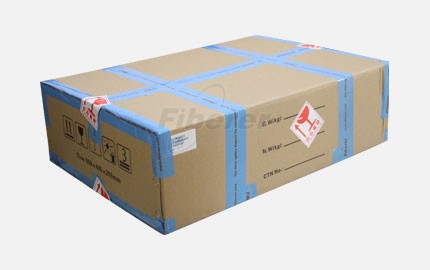 Packaging & Labeling
To protect each of product, Fiberer will use firm and secure Package, and common use Fiberer Label if customer not remark.
It is available to use custmized labeling and packaging for customer request.

Shipment
All shipment will be succssful to arrive customer's address. Fiberer try our best to let the shipment fast for customers, and the common express is by air of Fedex, DHL, UPS, EMS and TNT.
If the customer pay Fiberer the shipment charge, it will use Fiberer express account for the shipment, otherwise it need to use the customer's express account.
Customized & OEM
Fiberer always do Customized for customer's request successfully, It is available for Customized & OEM.



Quality Assurance

: assure 100% best quality.
(Fiberer assure 100% best quality.the term will be signed on order and invoice,match the safety of international business law.)
Customer Reviews